Dr. Ralph V. Clayman, a world renowned urologist specializing in the treatment of kidney stones, served as Midwest Stone's founding Medical Director and Research Director until 2001. Dr. Clayman, a pioneer in minimally invasive kidney stone surgery, is author of a textbook on minimally invasive stone removal, has published more than 70 articles on nonoperative stone removal, taught classes, and presided over numerous national and international meetings on this subject. He received his training on the lithotripter from Dr. Christian Chaussy, who developed the first Dornier machine.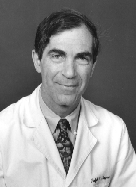 RALPH V. CLAYMAN, M.D.



From 2001-2005 the Medical Director of MSI was Dr. Jaime Landman. The urology program at Barnes-Jewish Hospital was ranked ninth in the nation by U.S. News and World Report.
MSI's research activities were also directed by Dr. Jaime Landman. As Medical and Research Director Of Midwest Stone Insitute, Dr. Landman provided dirction in the further study of kidney stone treatment and managment.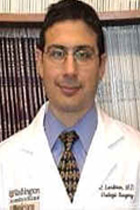 DR. JAMIE LANDMAN